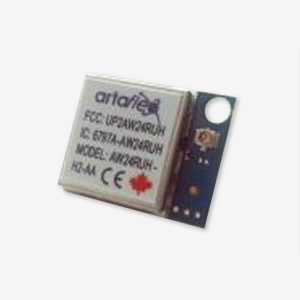 AW24RUH-H2-AA
Product Discontinuation Notice Effective June 30, 2018 – Click Here to learn more.
Part Number: AW24RUH-H2-AA
Connection: 12 pin PTH, 2 mil
Transmit Power: 21 dBm
Current Transmitting: 30-220 mA
Current Receiving: 21 mA
Sleep Current: 12 uA
Size (mm): 25.4mm x 20.3mm
Range: 500 Meters – 1000 Meters LOS
Data Sheet:


DataSheet-AW24RUH-Rev-2.pdf
FCC Documents:


FCC_GRANT.PDF


IC_Certification_Letter.pdf
Description
The AW24RUH Module provides a complete SPI to RF antenna wireless MODEM. AW24RUH is based on CyFi™ Transceiver a Radio IC designed for low-power embedded wireless applications. Combined with Cypress's PSoC programmable system-on-chip and a CyFi network protocol stack (SNP) AW24RUH can be used to implement a complete CyFi wireless system.
Request Software
You can request software for this module by filling out the request form on our Wireless Support page.
1- CyFi SPI Implementation on a CYRF 3210 Kit
2- CyFi SPI Implementation on an MSP430
3- CyFi SPI Implementation on a PSoC 3