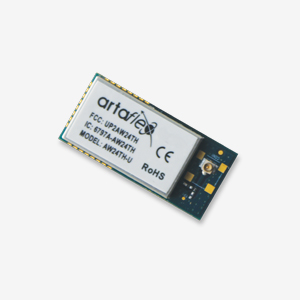 AW24TH-U
Part Number: AW24TH-U
Connection: SMT
Transmit Power: 24dBm (263mW)
Current Transmitting: 220mA
Current Receiving: 24mA, 33mA
Sleep Current: 0.5uA
Size (mm): 18mm x 38mm
Range: LOS 60KM +
Data Sheet:


DS-120-0013-Rev-2_5.pdf
FCC Documents:


FCC_GRANT.pdf


IC_Certification_Letter.pdf
Description
The Artaflex Zigbee module is based on Texas Instruments 2.4 GHz IEEE 802.15.4 RF transceiver, providing a cost- effective solution for data links and wireless networks. The module design supports peer-to-peer, star, and mesh networking, enhanced range performance, and the highest RF power available on any Zigbee product in the market; providing the lowest cost, best in class performance, in a compact form factor. FCC, IC, and CE certified.
Request Software
You can request software for this module by filling out the request form on our Wireless Support page.
1- Artaflex Simple Network Implementation
2- TIMAC Implementation
3- TI Simplicity Implementation
4- Zigbee Pro Implementation