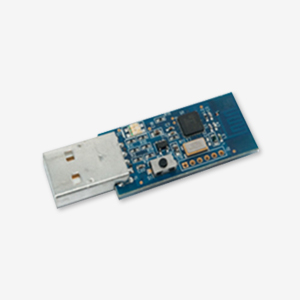 AWP24U
Product Discontinuation Notice Effective June 30, 2018 – Click Here to learn more.
Part Number: AWP24U
Connection: USB
Transmit Power: 0-4 dB
Current Transmitting: 40-55 mA
Current Receiving: 35 mA
Sleep Current: 4-30 uA
Size (mm): 59mm x 20mm x 11mm
Range: 30 Meters LOS
Data Sheet:


DataSheet-AWP24U.pdf
FCC Documents:


AWP24U-FCC-Grant.pdf


ETSI-AWP24U.pdf
Application Notes:


AN-121-0001-R3.pdf


Prog-Cable-AWP24U,AWAC24U.pdf
Software Download


801-0003-R1-USB-Driver.zip
Description
The AWP24U Module provides a complete USB to RF antenna wireless MODEM. The module is designed to implement wireless device links operating in the worldwide 2.4-GHz ISM frequency band. It is intended for systems compliant with world-wide regulations covered by ETSI EN 301 489-1 V1.41, ETSI EN 300 328-1 V1.3.1 (Europe), FCC CFR 47 Part 15 (USA and Industry Canada) and TELEC ARIB_T66_March, 2003 (Japan).
Request Software
You can request software for this module by filling out the request form on our Wireless Support page.
1- CyFi SPI Implementation
2- CyFi SNP Implementation
3- CyFi + HID Implementation
4- PC GUI RF Chat